I have wanted to write a review on Christian Louboutin's Pigalle 120 Pumps ever since my first time wearing them. I wish I would have read some reviews on these seriously amazing but painful heels before purchasing. Maybe it was better this way as perhaps I would have opted out of buying them due to the pain factor and thus miss out on the best heels in my collection by far! After all, no pain no gain. This phrase I'm sure many women like myself repeatedly say to themselves when wearing something not that comfortable, much to the dismay of our men. If you are like me then you covet items for months and months and put them on your present list for your husband to 'surprise' you with when he wants to buy you a gift. When the day finally arrives and you receive your beautiful sold out Pigalles you are on top of the world until you put them on and you realise that they require a manual in walking in them.No jokes. And then we wear them and love wearing them, and continually admire how beautiful they are, like pieces of art, and then you can't stop complaining how badly your toes hurt! Isn't the woman a marvellous and confusing creature?! Men
do not
and
will never
understand the female species and the lengths we will go to for the sake of beauty and fashion.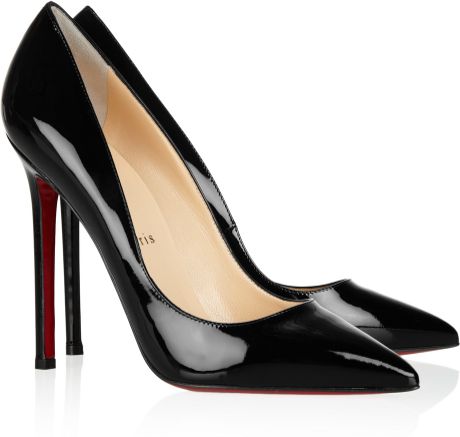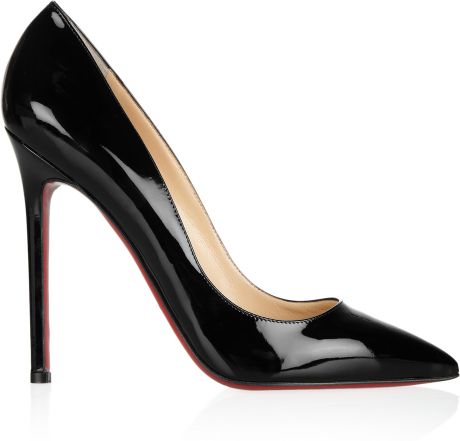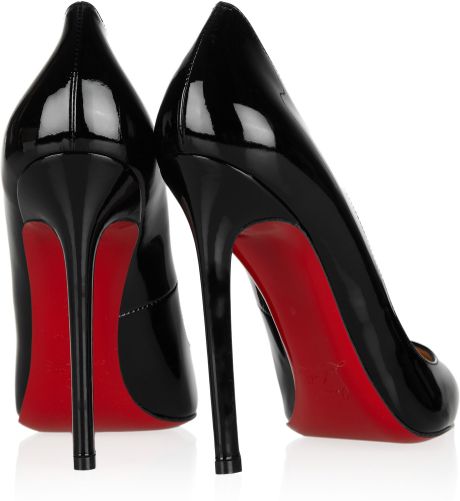 The price has just gone up from £375 to £395 available only at
www.net-a-porter.com
and
they never go on sale
With all that said I must emphasise and make it crystal clear that these pumps are simply beautiful. They are the ultimate heel. Their design and shape are impeccable and they instantly make you stand taller, appear slimmer and polish your look. They go with absolutely everything. But you should wear them with caution. My advice is to wear them when you don't have too much walking or dancing to do, from car to restaurant to chair to car and back home. As the designer himself says, ''I wouldn't take it as a compliment if someone looked at one of my shoes and said, 'Oh, that looks like a comfortable shoe.' There is a heel that is too high to walk in, certainly. But who cares? You don't have to walk in high heels.'' However, I must clarify that I have and do wear them to weddings where I have to dance and functions where I spend hours on my feet and I manage to look like I am not thinking about how much my feet hurt. Never ever take them off in the middle of a night out - you will not be able to out them back on!! The sales assistant correctly advised me to buy a whole size down than my usual size. Due to the nearly 5 inch heel, with no platform, your foot slips down to the very front of the point which causes you to slip out. Sizing down ensures your foot is securely in the pump; slipping out of these pumps is something you definitely want to avoid when investing in these beauties.
I have newly found respect for Kim Kardashian. I have always thought she is beautiful but I must now pay homage to her for her undeniable ability to
wear
and
walk
in Louboutin's Pigalle creations. Not to mention she even does it with ease when 6 months pregnant as in the photo below.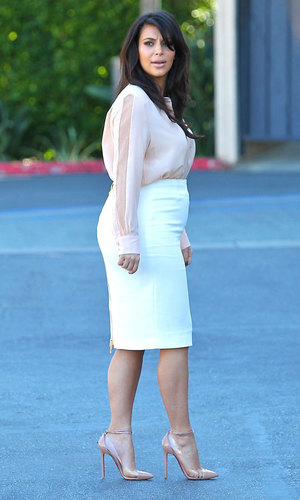 They are currently in stock on
net-a-porter
after having been out of stock for a very long time. But hurry because as I am writing this post and checking on the stock I can see more and more Out of Stock written on various sizes. I had to run around town, from Harvey Nichols to Harrods (where I discovered the Louboutin section was being renovated), to the Christian Louboutin boutique on Motcomb Street and then taking a taxi to my final stop, Christian Louboutin Mount Street, where I miraculously found and secured the last pair of the Pigalle's in my size. Honestly, I am not exaggerating. That's how hard they were to find that when completing and winning my treasure hunt around town I couldn't just leave them there?! On a final note, they are well worth the pain. Your legs will appear endless and it will style any ensemble to perfection. But, you have been forewarned; these heels are not for those with a low pain thresh-hold. After all, 'high heels are pleasure with pain.'